She's finally back! For years now I have been waiting for the greatest actress of the 1990s to come back to the screen in a major role. I thought that day had come with Aronofsky's Black Swan, but the director did a poor job and barely took advantage of her acting capabilities. My wish is now fulfilled as Winona is back on our screens with two films: The Iceman (which made a lot of noise at the Toronto Film Festival) and Tim Burton's Frankenweenie. The latter especially pleases me. It is with Burton that Ryder started her career with the exquisite Beetlejuice. She did more than hold her own next to the great Michael Keaton, as Lydia a troubled teenager who dreams of becoming a ghost. Two years later, she became Kim, a blond cheerleader who falls in love with a young man who has scissors for hands. Edward Scissorhands is the first film I saw with her. And I completely fell under the charm of the young actress. There was in Winona Ryder a poetic grace that I hadn't seen since Audrey Hepburn. Beautiful as an angel, wide-eyed, Winona Ryder also had the advantage of conveying a troubled personality. It seemed as though a rage or anger was buried within her, hidden behind her softness and that demanded to be revealed. And it is that desperately passionate Snow White that FF. Coppola revealed in his masterpiece, Dracula. As Mina, Ryder not only appears as the perfect princess. She is also the perfect companion to the devilish and seductive Count Vlad. Gary Oldman and Winona Ryder succeeded where the Stewart-Pattinsons of today failed. They embodied the perfect romance and the violence of love at the same time. You can only believe Dracula when he declares that he has "crossed oceans of time" to find her. The year after, it was none other than Martin Scorsese who hired her in what remains the greatest feminine role in the entire filmography of the American director. In The Age of Innocence, May Welland is married to Newland Archer (Daniel Day-Lewis), who loves another woman (Michelle Pfeiffer). Behind a mask of innocence, May will prove to be the most clairvoyant and the cleverest. Ryder's acting is masterful: she plays with her looks with an ambiguity that is fascinating to watch. She then starred in some films that put her in the front line. Though enjoyable, those films do not compare with these previous pictures. Reality Bites, Little Women, Alien: Resurrection, Girl, Interrupted, The Crucible, are worth seeing because she's in it. Had it been any other actress, these films would have lost a lot of value. One exception is Al Pacino's documentary, Looking for Richard. Ryder makes a fleeting but notable appearance as Lady Anne. The encounter between Lady Anne and Richard is the most moving passage of the film.
I was crushed when I heard that Ryder had been offered the part of Katrina in Sleepy Hollow (though Christina Ricci does a hell of a job) and turned it down. I loved the Ryder-Burton tandem and hoped that they would one day be reunited. My wish has been granted as Winona Ryder is the voice of Elsa in Burton's latest animated film, Frankenweenie. I hope that this is the first reunion in a long line of collaborations.
I cannot wait to hear and see her again in these two films and hope that directors will realize what a treasure they have at hand. Let me borrow the words that Ichabod Crane spoke to Katrina Van Tassel, who put Burton's hero under her spell: I think there is a little bit of witch in Winona Ryder, because she certainly bewitched me.
The 5 best roles of Winona Ryder
Mina Murray, Dracula
May Welland, The Age of Innocence
Kim, Edward Scissorhands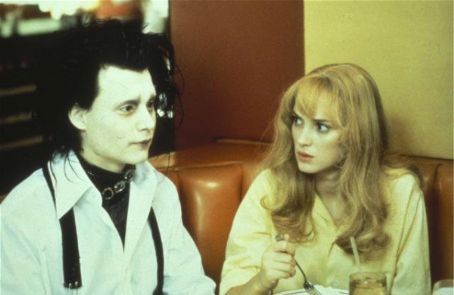 Lady Anne, Looking for Richard
Lydia Deetz, Beetlejuice
Viddy Well!
E.C